Visitors
Countries
| | | |
| --- | --- | --- |
| 63.6% | | United States |
| 8.8% | | United Kingdom |
| 8.2% | | Germany |
| 4.9% | | Sweden |
| 2.3% | | Canada |
Visitors
| | |
| --- | --- |
| Today: | 3 |
| Yesterday: | 43 |
| This Week: | 94 |
| Last Week: | 293 |
| This Month: | 1064 |
| Last Month: | 1476 |
| Total: | 49225 |
Custom Search
Written by Bethany
Monday, 21 July 2008 02:10
Swirl Knot!
1.Gather 3 strings each a different color. Make them about 30 inches long.
2. Tie a knot about 2 inches down from the top.
3.Hold all the strings together with one left out. (I used green, yellow, and red)
4. Tie a single knot around the group. Repeat 15 times.
5.Repeat step 4 with the other 2 colors.(Example in picture)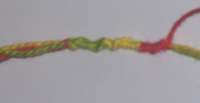 6.Repeat steps 4 and 5 until the bracelet is as long as you want. Tie it off and then tie the 2 tails around your wrist and wear!
Last Updated on Tuesday, 04 August 2009 23:59